7 Easy Ways to Turn Your Child's Bad Days into Good Days
No matter how much you try to protect your child, sooner or later they will come home crying. It can be bad marks, a scraped knee or being the victim of bullying. They will need to learn about dealing with negative emotions.
The good news is that being resilient and having self-confidence is possible, even at an early age. As a child, if you get the emotional support you need and parents set a good example, you're very likely to get through life's challenges easier. But that means you're carrying a lot of responsibility as a parent! How do you ensure you get it right?
The next time your child has a bad day, keep calm and use these helpful guidelines that can work for various ages.
The Importance of a Child-appropriate Perspective
A first step in preparing yourself to be a good mentor, is to remember the unique characteristics of children. For one thing, especially small kids can't yet express exactly how they're feeling. Don't get irritable because they don't tell you what's wrong.
Understand that they don't have the skills and it's up to you as the adult to analyze the situation. Use cues, such as learning more about the art of body language to gauge which emotions your child wants you to meet. Are they scared or angry?
If you don't feel confident analyzing a child's behavior, make use of the mass of information available online. Research how exactly kids in your child's age group perceive the world. Use that as a starting point, trying to put yourself in your child's shoes. Combing that perspective with the tactics below to help your kid reflect and later focus on something else than the problem.
Kid Having a Bad Day? How to Relieve Stress Quickly and Efficiently?
Just Listen
They're only kids, and they may not be able to tell you exactly what's going on, but they deserve your attention. Assure them that as part of your intimate relationship as parent and child:
You want to help
It's acceptable that they're upset
You will put aside time to listen, help or simply hold them
When you listen, ask questions to confirm you understand what he or she is saying. You need to ensure they feel understood. To instill trust and positive feelings again, they must know there's a safe space for them to go to. Be that safe space, so they don't go looking for it elsewhere.
Your Words to the Rescue
Since they've said all they wanted, use your voice to their benefit. This can be:
Words of comfort
If their bad day was because of insults or conflict with others, see their faces change as you list their good characteristics
Start praising them for things you respect them for
Your positive input can help them focus less on the negative emotions that seemed so overwhelming at the start of your conversation.
Don't overwhelm them with advice, but suggest easy coping skills. For example, breathing exercises work for almost any age group.
Show Love with a Hug
Words of affirmation is a powerful way to show your care, but as listed in the 5 Love Languages, so is physical touch. This is clear when you consider how much better people—adults AND children—feel after sharing a hug. No wonder there's a 'Global Hug Your Kids Day'.
People may prefer different hugs meaning not everyone likes being held in exactly the same way or for the same length of time. Still, in general, hugs have a positive influence. Experts believe it's because a hug can help lower the stress hormone, cortisol—also call the stress hormone. So, it's clear this carries a lot of potential when wondering how to relieve stress quickly.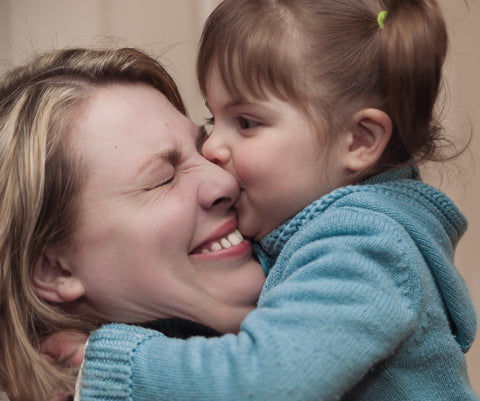 Get Out in Nature
After giving your child enough time for expression, it's important to help them transition to a more positive state of mind. Physically moving to another environment—rather than staying cooped up in their room—is a dynamic tool to get this right. And where better than heading out into nature?
It can be as simple as sitting in the garden and enjoying the sunlight or watching the birds. Alternatively, head to a local park. Apart from getting fresh air, you're sure to encounter some good natural distractions on the way, from a puddle to splash in, or someone's cute dog to pet.
Be Active Together
It's actually very important not to just sit around and focus on what caused this bad day. When children get active, they're likely to focus on something else than the problem, but you have to take the lead. They may not initially feel like taking part in some active fun, but depending on their interest, set up the environment to get them moving:
Playing their favorite sport outside
Dancing to their favorite music
Asking them to help with a DIY project—remember to praise their efforts throughout  
A bonus is that exercise lowers adrenaline levels—yet another stress hormone.
Use Creativity and Games
Many other activities can also help kids unwind and focus on happier thoughts. And you don't even have to leave the house. This is good news on rainy days when you can't head outside for a walk:
Color in, which is relaxing and even meditative. Put on calm music in the background for a soothing atmosphere.
Do a craft project together, to be creative and have fun.
Read a book so their imagination is captured by the story.
Sit down and play with toys like Cossy Kids magnetic tiles.They can implement their creativity and concentrate on other things than what upset them earlier.
For smaller kids, interesting toy items like a Cossy baby walker that also has colorful, educational features will distract them.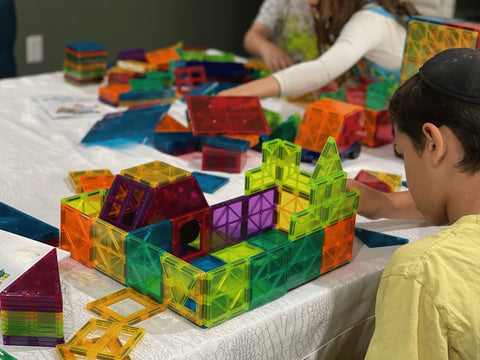 Trust their natural affinity for games, color and creative activities to help them forget about their ordeal earlier that day.
Head to the Kitchen
Most kids also naturally like baking—especially with the adults they love—so provide the emotional support they need by spending time in the kitchen. Pick a recipe for their favorite food and allow them to get a bit dirty while helping. The more carefree you allow them to be, the better they'll start feeling.
Last Tip: Be Honest About Your Own Bad Days
While you're sitting down playing with CossyKids toys or eating the biscuits you baked together, share with your children about your own bad days. Prove to them it's normal to feel this way, so they don't lose confidence every time things go wrong. Teach them your own coping skills so they can implement it as they get older.
Give them the best chance of turning bad days into good ones for the rest of their lives!