7 of the Best Wooden Baby Walkers for 2021.
Yesterday your baby was just born needing your every second of attention. Today they are starting to crawl and getting into all sorts of places. Tomorrow they'll try to walk, and you'll want to be prepared. Walkers are perfect for short-term and long-term use. Their versatility and multi-use purposes provide the functionality your baby needs during some of the most pivotal years of their development. We've provided the perfect buying guide for wooden baby walkers— what to look for, why wooden over plastic, and the hottest products on the market for your little ones learning to walk. 
Are wooden toys better for babies?
Not only just for baby walkers, but the constant debate for wood vs. plastic is a common issue in today's society. PVC plastics make up the majority of your baby toys. There are many stipulations on what plastics are good or harmful for your baby. Still, if you need to question it and possibly need a PhD in chemistry to understand what plastics work for your baby, it's best just to avoid plastic altogether and stick with old-fashioned healthy wood.
Providing your little one with wooden walkers and other wooden toys has the following benefits:
Durability: They provide less waste than their plastic counterparts as they are made out of sustainable and natural ingredients. A wooden baby walker is much more difficult to break, making it the perfect purchase if your planning on multiple babies in the near future.

Safety: Wooden toys are all-natural and provide less of a health risk as opposed to plastic options.

Eco-friendly: Made with biodegradable natural ingredients, wooden toys provide longevity, and you need and help the environment while bringing joy to your baby's life every day.
What to look for in baby walkers.
You want to ensure the best protection and state-of-the-art technology as your baby is learning to walk. In order to do so, you need to understand a few major elements when making your purchase:
Look for a solid heavy base.

Look for the width — the wider the walker, the easier it to use for babies.

Look for adjustable wheels or wheels with traction for those adventurous babies that like to travel everywhere.

Find a walker with stoppers to help resist tipping and falls for your precious little ones.

Look for walkers with a higher base to help babies stand up and reach the handlebar with ease.

As mentioned before, look for only baby walkers or wagons made of natural materials like wood for the quality look and quality features.
What type of walker are you looking for?
We want to make a clear distinction between a baby walker and a walker wagon. Baby walkers typically contain seats for your baby to sit and walk along the floor while still supporting their weight. Walker wagons are for the more adventurous babies that are fulling standing on their own but need a little assistance. You'll want to make sure in both types of baby walkers; the wheels seamlessly move back and forth. You don't want any type of confusion for your child as they are learning at this age.
When can a walker be used for an infant?
Every child learns and develops at their own pace. One of the most challenging tasks as parents is understanding your baby's needs and how to push them at a comfortable pace that does not stipend their growth. What is the proper age for your little ones to be using a walker? Baby walkers are typically designed for children between 4 to 16 months. You understand your child most, so if they need a walker past the 16 months, try to find a walker that adjusts to different heights to work for various needs.
How we chose the best wooden baby walker.
We've designed a simple buyer's guide list for making this crucial purchase in your child's life when walking based on price, functionality, quality, and added features babies might enjoy.
7 of the best wooden baby walkers for 2021.

Price: $88.00
Advantage: Technical design with all the fun features.
As a standard price for a quality wooden baby walker, this activity walker, in particular has enough unique features to keep your child occupied for hours and not just on the walking.
Made from wood and plastic that is free from BPA/BPS and PVC.Perfect for babies once they are able to sit up unassisted as they will enjoy all of the activities.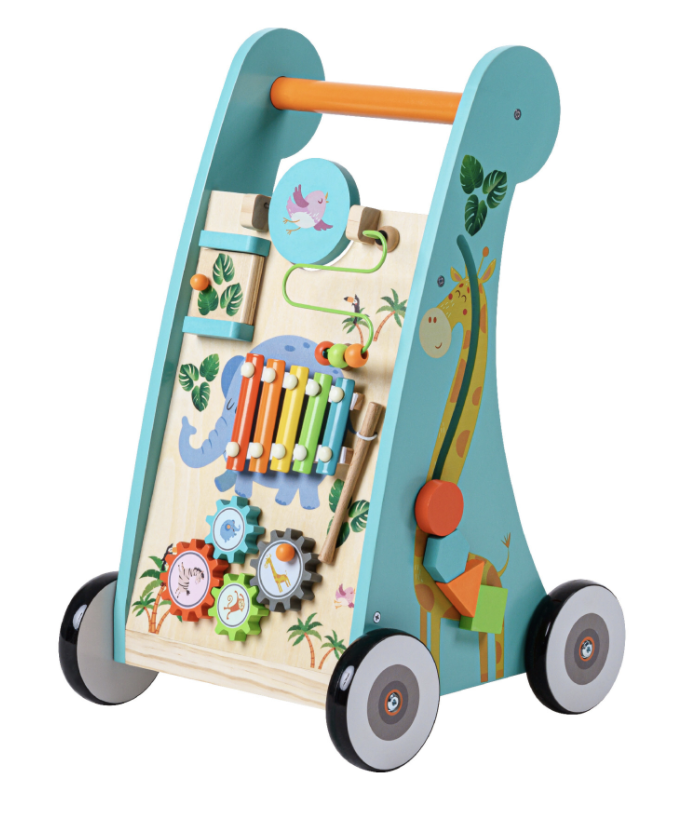 Price: $79.99
Advantage: Fun learning with a jungle theme.
If your child loves animals, this is the walker wagon for them. The unique xylophone in cooperation with the animals and hidden storage compartment provides the hours of fun your child needs without taking up too much space in your home. This piece encourages your baby's imagination while learning to walk and having fun all at the same time.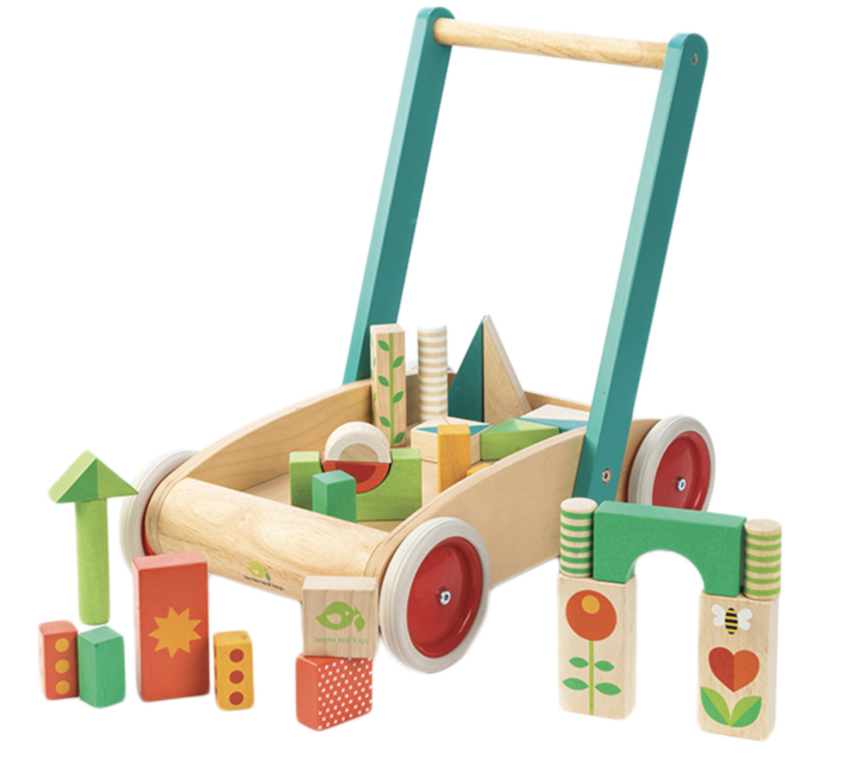 Price: $79.99
Advantage: Stable design is perfect for early walkers.
This sturdy walker wagon was created for mobility and durability. The handle was created to withstand all the weight and pressure your baby may inflict on it as they try to learn to stand. The wheels help keep the walker stable as they mobilize their balance for the first time. Enjoy the quality toys and blocks included for your little one's playtime.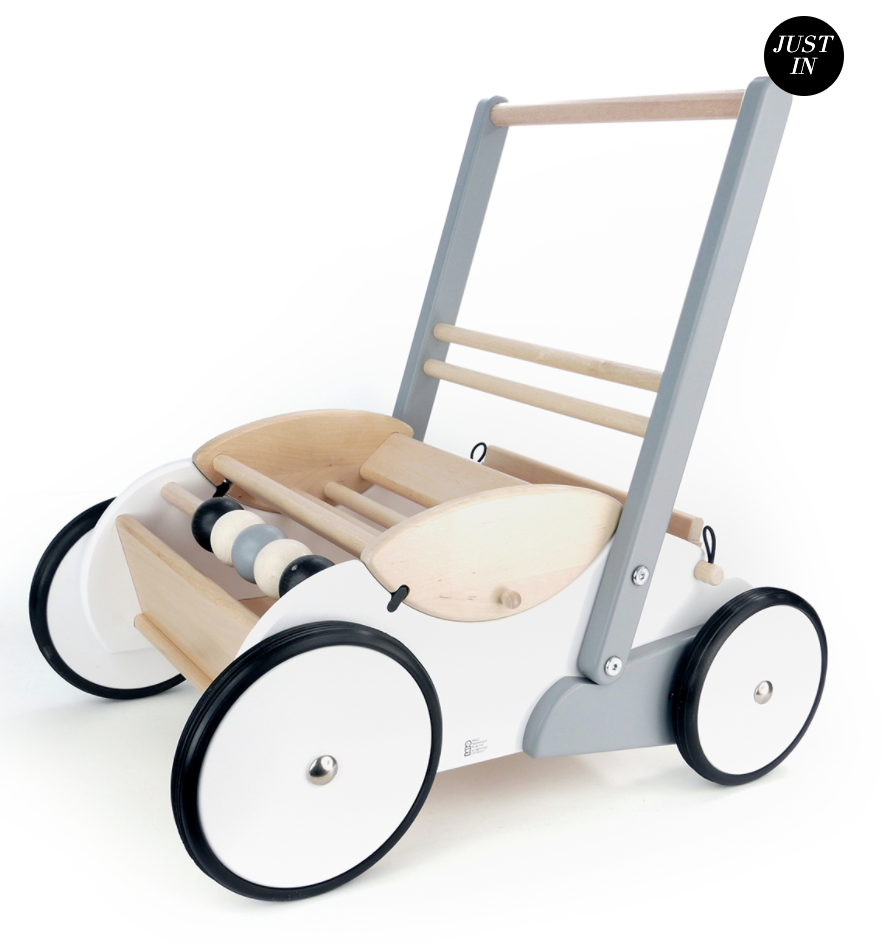 Price: 175.00
Advantage: Simple, sleek design for a higher cost.
This beautiful wagon walker provides the all-natural wood and quality wheels and features your child needs. Often, "less is more," and this product proves this with minimal toys and multi-sized wheels. If you want simplicity and durability, this is the option for you.

Price: $43.99-$61.99
Advantage: Best quality for the price.
This is one of the most inexpensive but quality wagon walkers on the market. The Cossykid's collection provides hours of educational fun and walkers all in one product. Find the colors and toy themes you prefer on their website and ensure satisfaction is guaranteed with an included warranty.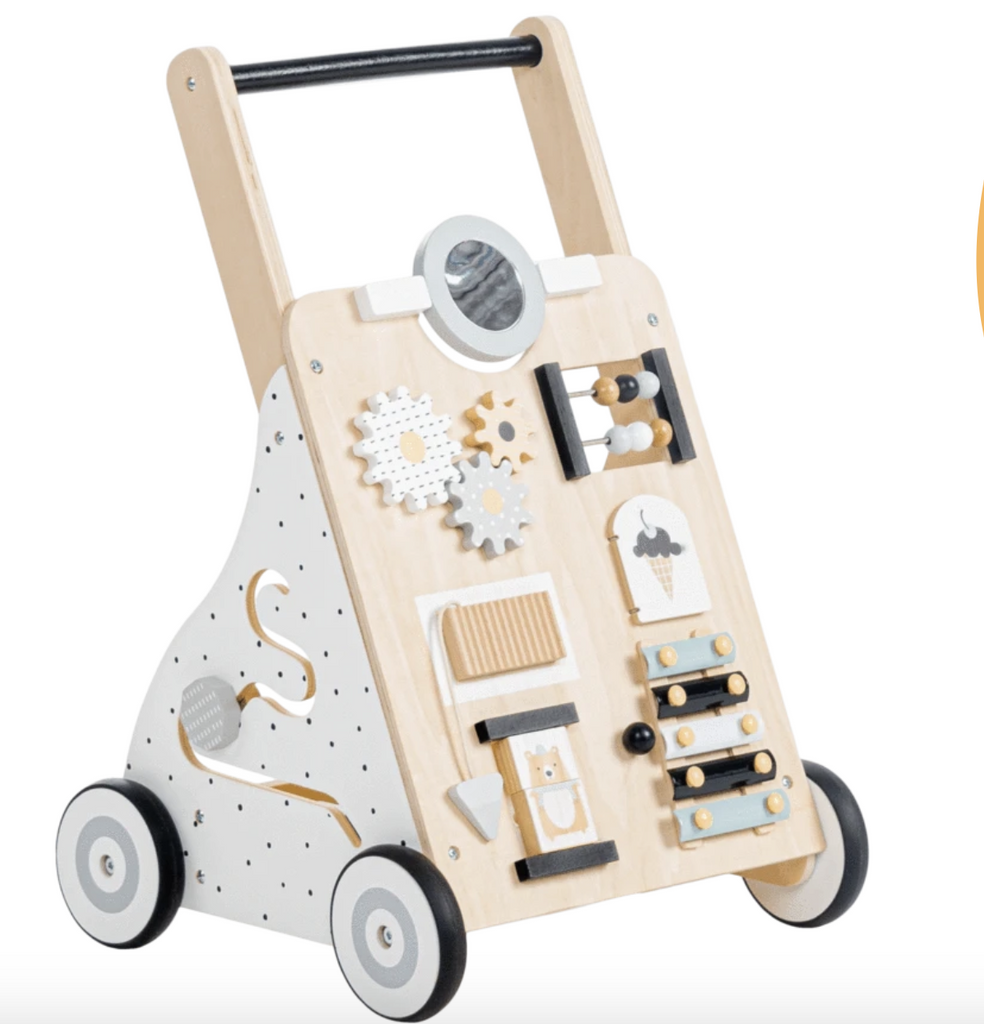 Price: $79.99
Advantage: Overall variety of toys and style.
What child doesn't love to look at themselves in a mirror while playing with their toys? This sleek design enables no messes but includes 7 interactive toy features to leave your little one entertained and walking all at once.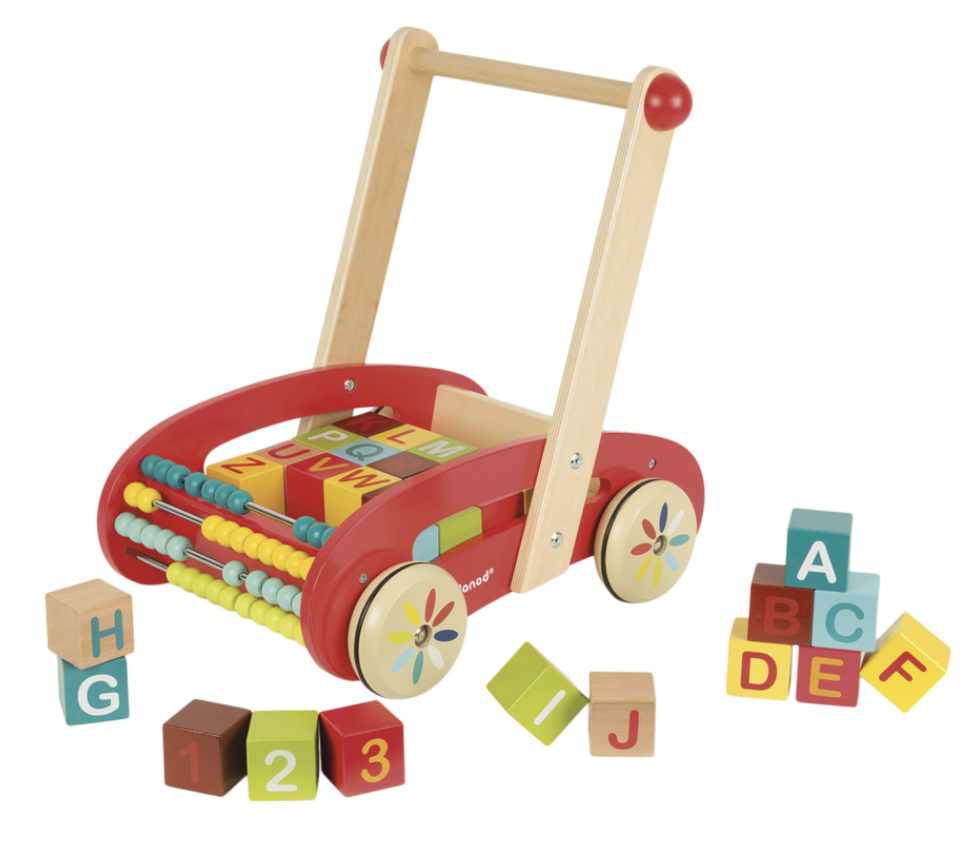 Price: $88.00
Advantage: For the hands-on children.
If your child loves construction tools and building things, this is the wagon walker for them. The convenient block compartment makes clean-up easy for parents and play time exciting for babies. Easy access and seamless wheel design, so it's easy to push to any location. Help your baby take their first steps with a wagon walker that makes it easy and fun.