Cossykids: A Brand with a Dedication to Offer Toys for All Children
Play is an important thing to foster in all children, something parents and guardians of all ages, genders, and races would agree with. But while play can be an excellent source of fun and entertainment – it goes beyond offering hours of fun. It lets kids become creative and experiment with their imagination.This is especially essential for children who have autism. One of the best things a parent of an autistic child can do is provide toys, games, books, and other sensory input items. To put it in an even more simplified way, autistic children should be provided with toys that help engage all of their senses.
 But that isn't the only benefit of providing the best toys to children with autism. Toys can be a bridge that allows children to connect with those around them. In addition, many toys are made specifically to offer the chance to practice motor skills that can provide more insight into the world around the child.
Why Sensory Play Is Essential for Autistic Kids
 April 2nd is World Autism Awareness Day. One of the things that many autistic kids struggle with is traditional sensory processing. This varies by child, of course, but many have issues processing smells, textures, sights, sounds, or other items that bring a high level of stimulation to the senses. As you choose toys that are the best for children with autism, there are a few things to be aware of. First, you should offer your child a selection of activities, including toys. Choosing toys your child likes is essential. However, it's just as vital to ensure the toy is engaging to the child and helps them work on specific skills.
 For some autistic children, development can be delayed, which is something else to consider when selecting toys. Depending on the child, toys made for a lower age group may be more appropriate. Take all of these things into consideration when selecting toys that will be enjoyable for little ones.
Common Toys Enjoyed by Children with Autism
 Sensory toys, as mentioned, are a great choice. For instance, toys that enhance a child's sense of their body are good. This includes things like bean bags, modeling clay, or jump ropes. To help your child strengthen awareness of their head's position, you might choose toys that swing, spin, rock, or otherwise create motion.Tactile stimulation also works well and involves choosing toys with varying textures. Items like water toys, sand toys, bubbles, finger paints, and dress-up clothes are good choices. All of these toys are ideal for learning through play.Other toys to consider include those that help with language development, especially for a nonverbal child. Of course, any toy that helps with gross and fine motor skills is also a great bet.
Sorting toys, musical instruments, and other toys can be very soothing for a child with autism. There are also toys that help a child fidget and "stim" to feel more comfortable. Any variety of these things combined with games to increase social skills makes up a perfect playroom.
Cossykids Toys Are Ideal for All Sorts of Kids
Cossykids offers a variety of toys designed to be fun to play with while fostering creativity and a sense of imagination. Because of this, the toys can be used by children as open-ended toys that show parental love. Keep reading if you aren't already familiar with our high-quality toys and their assistance with learning through play.
Cossy Magnetic Building Tiles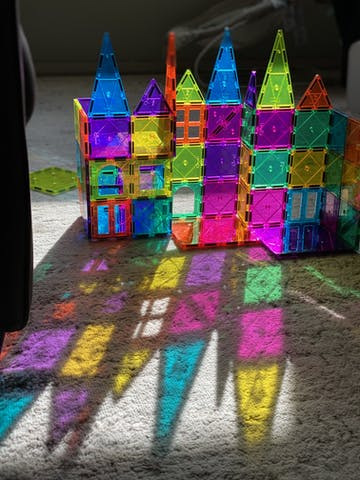 The first toy we want to showcase is our magnetic block sets. These come in a variety of sizes, from 32 to 120 blocks, to meet the needs of every child. As with all our open-ended toys for play, these are ideal for building motor skills. In addition, they come in eye-catching colors that children will find appealing.
Designed for kids three or older, these blocks have durable construction and are safe for use by all children. The tiles are designed in geometric shapes, which can help a child learn basic math principles. In addition, the magnetic force is strong so changing shapes is a breeze for kids. As a STEM toy, these building tiles help promote physical and psychological growth. Parents love them and kids enjoy playing with them. It's something that everyone in the family can play with together to implement more family time in your child's life. Use them for hours of fun and open-ended play that kids love. 
Cossy Wooden Baby Learning Walker Toddler Toys
Designed for children of 18 months or older, the Learning Walker Toy is great for the toddler in your life. It has a colorful aesthetic that is made up of red or blue and a combination of orange, green, and yellow. These colors are exciting and sure to get the attention of any child. This walker has all sorts of fantastic features to assist with growth and development. The toy is designed to be used while sitting, pushing, or walking so kids can learn in whatever way works best for them. In addition, it's made to increase a child's autonomy and motor skills.
The side with the extra functions has three animal blocks, three shape sorters, and a maze. A child can move the blocks all the way around, spin colorful gears, and become more proficient in using their fingers to complete tasks. Since the toy has wheels, it can also be used while a child learns to crawl and then walk.
Cossy Wooden Baby Walker Toddler Toys Fox Set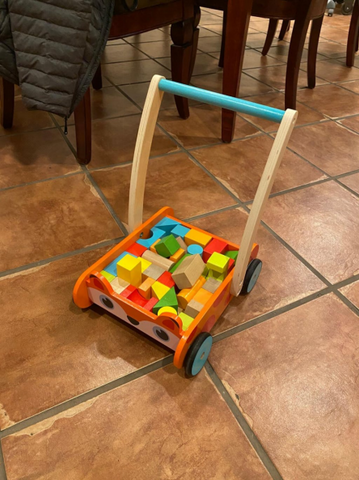 This toy is for children of 12 months and up and looks like a cute baby fox. It has handles and includes blocks on the inside so kids can learn and have fun simultaneously. This walker is similar to the one above but ideal for younger children and focuses on block play.
Made for toddlers, the Fox Walker is safe for kids to use for open-ended play. They can push against it to walk and gain confidence in those movements. This offers a chance to learn to balance while gaining self-confidence. When using the blocks, kids can be creative and have a chance to expand their motor skills.
Final Thoughts
The toys provided by Cossy offer many benefits for children of all kinds, from increasing motor skills to amplifying the imagination and teaching kids to be more creative. Beyond that, each toy is safe and made to last while being fun to spend time with. In the end, this is the most crucial factor to look for in toys for children!