Non-toxic Magnetic Tiles and Why Your Kids Need Them
Soon as kids start growing, they start developing a curious mind that must be satisfied. A variety of toys are available to satisfy toddlers' curiosity. Kids can explore and play with these beneficial toys, learning new motor and cognitive skills in the process. 
Magnetic tile sets are one of the most popular kids' toys at Cossykids. These toys have immense benefits for children, helping to shape their minds. But, they also have to be healthy. Here, we explore what healthy magnetic tiles are and how beneficial they are for kids. 
What are magnetic tiles?
Magnetic tiles are open-ended construction toys that help to build children's creativity. They come in many-piece sets. The pieces are made of high-grade acrylonitrile-butadiene-styrene (ABS) plastic and come in different shapes. The pieces snap together magnetically, allowing kids to form different connections. 
The magnetic tiles have magnets on all sides and can be connected anyway. This type of open-ended play allows kids to develop their creative thinking and make sense of the world around them. Children can use the Magnetic Tiles to construct something out of their imagination, duplicate an image, or copy an object already created. The colors, translucency, and magnets allow children to build and create in ways they couldn't with ordinary building blocks. In addition, magnetic tiles allow kids to build in 2D or 3D geometry, further boosting their fascination and enthusiasm as they play and have fun.
Magnetic tile pieces come in sizes suitable for kids' hands and are typically recommended for children three years and above.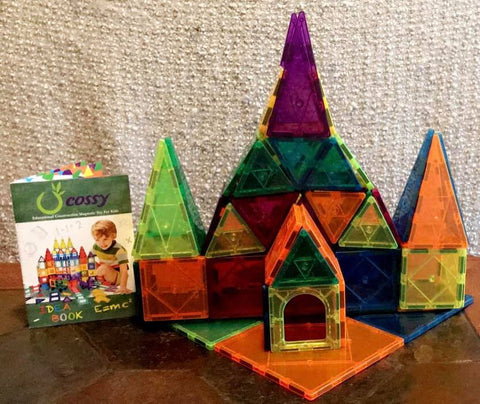 What are non-toxic magnetic tiles?
From infancy, kids learn to pick up things and put them in their mouths for various reasons. This is one downside to their cat-like curiosity. One of kids' favorite things to put in their mouths is their toys. Because toys constantly go into their mouths inadvertently, it is best to ensure they are safe enough and do not cause any harm to kids. 
Magnetic tiles are composed of two categories of materials that may cause acute harm if ingested by kids - plastics and magnets. In light of these, magnetic tile toys are subject to strict quality assurance purposes to ensure they are safe for kids. Non-toxic magnetic blocks have passed CPSIA quality checks. They are made using food-grade acrylonitrile-butadiene-styrene (ABS) plastic, free of bisphenol A (BPA), phthalates, latex and other toxic materials. The magnets are tightly welded to ensure they stay inside the plastics and are inaccessible to kids. 
These manufacturing precautions ensure that Cossykids magnetic tiles are 100% safe for kids to use. However, ensure that kids are always observed when playing with their magnetic tiles. 
Why do kids need non-toxic magnetic tiles?
Magnetic tiles are one of the most beneficial toys for kids' development. They are often regarded as the ultimate educational toys. These toys offer children the opportunity to use and develop several skills, including;
1.STEM skills
Children can use magnetic tiles to learn about Science, Technology, Engineering, and Mathematics (STEM). These toys help youngsters be curious, ask questions, think creatively, collaborate, and solve problems in early infancy. For example, they can construct a simple structure and then add extra tiles to make it taller. They use scientific and engineering principles to find the right way to construct a stable, non-collapsing building. This approach develops not only resilience but also problem-solving and critical thinking abilities.
2.Hand-Eye Coordination and concentration
Hand-eye coordination is the ability to utilize both hands and eyes simultaneously, and it is a difficult skill for young children to master. Children develop efficient hand-eye coordination by building with magnetic tiles. When a child picks up a tile and connects it to another tile,  they develop an awareness of the relationship between their eyes and hands.
In addition, kids learn the art of staying concentrated when they play with magnetic tiles. A lack of concentration will cause kids to build structures that are unstable or undesirable. Kids learn through magnetic tiles to stay focused on the task at hand to yield the best results.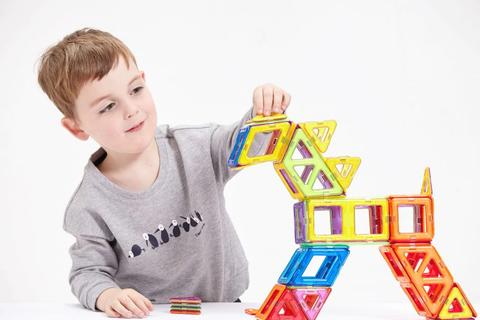 3.Creativity and Imagination
Children may utilize their imaginations and creativity with magnetic tiles. Children can learn about themselves and the world around them through imaginative and creative play. For example, they can show their interests by making something they admire, such as an airplane or a house. With magnetic tiles, the possibilities for inventive play are limitless.
4.Shape, number, Letter and Positional Learning 
Magnetic tiles are perfect for educating kids at a basic level. These tiles may be constructed in different geometric shapes, numbers or letters, and then children may be asked to identify them. Adults can use various constructed figures to teach children spatial reasoning. For example, they can identify what is in front of the other, beside, behind, adjacent etc.
 5.Developing Motor Skills
Magnetic tiles are beneficial in helping kids develop gross and fine motor skills. Gross motor skills involve the movement of large muscles in the body. Building and crashing activities engage kids' larger muscles and develop their gross motor skills. Smaller hand movements to make structures stable or to put a structure in shape helps develop their fine motor skills.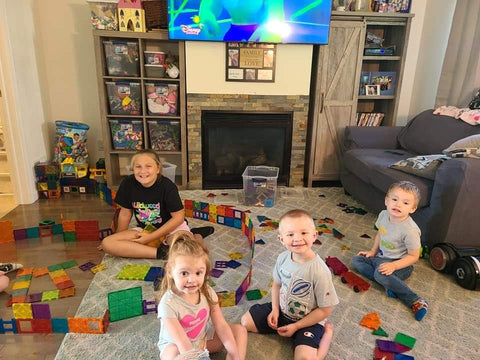 In addition to these skills, magnetic tiles are also beneficial because
They are cost-effective
Kids of all ages can use them. Even adults can play with magnetic tiles
They are non-toxic and safe for kids
Why you should choose Cossykids non-toxic magnetic tiles
There are many magnetic tile brands on the market today. But Cossykids offer you the best option in terms of quality, safety and value for money. The Cossy Kids Tiles come in a set of 60 or 32 pieces. It's perfect for kids from three years upwards.
The 60 piece set of this 3D Magnetic Set comes complete with two sizes of squares, three sizes, and shapes of triangles, rectangles, L frame, gates, windows, window frames, doors and double doors. There is also a professional set that comes with wheels, allowing your child to bulld mobile structures. This set is perfect for your child's creativity to soar as they construct building after building and automobiles to boot.
While maintaining top quality, the Cossy Kids Magnet Tiles is one of the cheaper alternatives to expensive tile sets, making it the best value for money out there. These tiles are also vibrantly colored, and kids will love to play with them.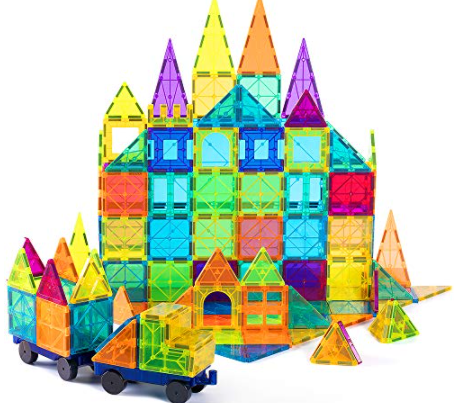 The pieces are made with strong magnets and even stronger tiles allowing easy attachment and detachment and making them comfortable for kids to play with. In addition, the pieces are made with food-grade, non-toxic ABS plastic conforming with CPSIA quality checks. These tiles are 100% safe for kids to play with and will not cause any short term or long term harm. 
Cossykids magnetic tile's premium quality makes it the perfect educational tool for growing kids. STEM, cognitive and creative skills are challenged and developed through this piece, and kids stay entertained and fascinated with its vibrant colors. With its many tile pieces, this set supports various kinds of play that children will love.  
How to play with magnetic tiles
Magnetic tiles are super fun to play with alone or in combination with other toys. Here are some fun-filled plays you can engage your kids with using magnetic tiles
Indoor bowling: build bowling pins with the tiles, and try to get kids to knock them down with a ball
Magnetic measurement 
Magnetic shape and color match
Color exploration
Building tall structures
Shape puzzles
Magnetic tile dominoes 
Building ball runs
Pattern creation and identification (shape or color patterns)
When it comes to playing with magnetic tiles, the possibilities are endless. Magnetic tile plays encourage creativity both on the part of children and adults observing the play. Do well to experiment with various game styles and encourage your kids to channel their creative mind.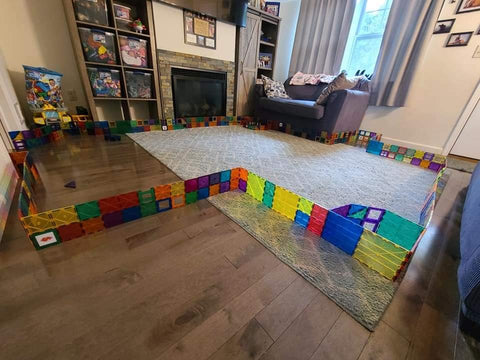 Some tips to make your magnetic tile plays more fun
Add loose parts such as pom-poms and bells
Explore other magnetic surfaces such as garage doors, fridges or metal fences. 
Challenge children to build giant structures or more complex ball runs
Include them in sensory play
Make the right choice today
Growing kids deserve the best when it comes to learning or playing. Fortunately, magnetic tiles offer the best of both worlds. Magnetic tiles influence various facets of kids' development and still offer them so much fun at the same time. Even adults are not left out!
However, magnetic tiles must be made with non-toxic materials to ensure kids' safety when they play with them. Cossy offers a wide range of magnetic tiles at very affordable prices with varying beautiful pieces that kids will enjoy playing with. In addition, these tiles are safety guaranteed. 
Make the best choice for your kids today and get them Cossy magnetic tiles.