Building Blocks comparison: test and buying guide
Building blocks have been one of the fun activities to do alone or with the family for several generations.
For children and adults, they are a guarantee of moments of fun and intellectual development, provided you choose well. Considering the huge variety of games on the market, it is often difficult to choose. To help you, our buying guide tells you all the essential features to check.
What are building blocks?
Also called games of skill, these are several prefabricated pieces that will have to be assembled together to form a shape or a character. These elements can be designed in fabric, wood, plastic, brick, or even metal. Once the assembly is complete, it will be enough to take it apart to get another toy.
Why Parents Choose Magnetic tiles?
Comparison of the best building games
Discover the building blocks offered at the best quality.


The best value for money: Cossy
Thanks to its 120 pieces, this set is ideal for creating many shapes of all kinds. This is a construction set using magnetic tiles that tighten and stabilize the assembly. As a result, it will be possible to play without the risk of the toy falling apart.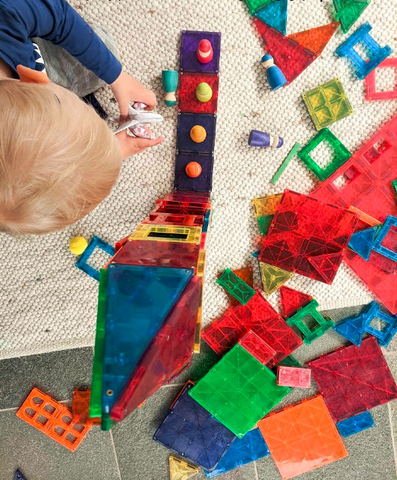 Kids can assemble elements such as houses, cars, bridges etc. Magnetic tiles can be also used to play in different manners such as dominoes, make a maze, match and spelling, repeat the sequence, numbers and letters, sensory play, puzzle match, colored lights, mix colours, add small toys cars, decorate any metal surface you can find, make a marble run down the fridge, sorting etc among other activities.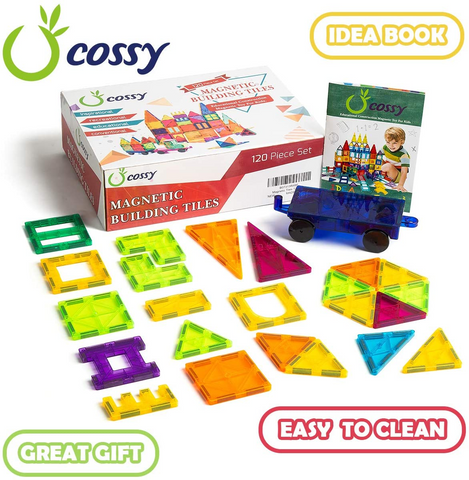 The high-quality model: Magna-tiles and Cossy - magnetic block
In addition to modulating original shapes, the youngest can practice recognizing numbers and letters, building various structure and shapes. Safety is there since even if they bite into rooms, there are no harmful substances. In addition, the various components can be washed without a problem.
The cheap model: A-Long puzzle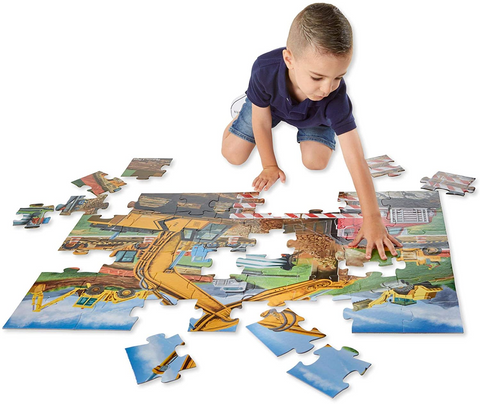 Unlike other building blocks, here the pieces are in the shape of a stick. More complex to use, it will be necessary to be patient to arrive at the desired shape. Fortunately, the possibilities are endless. This set comes with its own basket for easy movement and transport.
Why buy building blocks?
Develop children's motor skills
Nesting or stacking pieces on top of each other promote motor development in young children. It is a good exercise to learn to make decisions, choosing shapes and locations.
Once the motor skills are acquired, you can subject them to more complex constructions. For example, they can start building houses, cars, or even an entire village. As they will be confronted with various shapes and circuits of all kinds, they will have to learn to use each part. In addition to acting on the physical level, games of skill also improve intellectual capacities. The imagination will be stimulated as children will want to create short stories related to constructions and characters.
To have fun alone, with family or friends
In addition to the educational aspect, the clip-on building blocks help pass the time. Playing it alone will help develop concentration and attention. Together, it is a good way to promote dialogue, empathy and exchanges. It is also a way of developing team spirit, as much for adults as for children.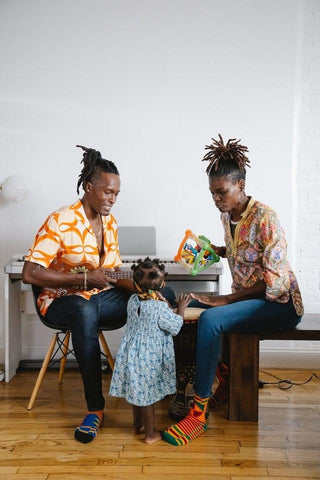 How to choose games of skill?
Depending on the material
For more sensations and possibilities, it is preferable to vary the materials of manufacture of the parts. Currently, there are a lot of them on the market. The most classic is plastic building blocks. They are light, resistant, and easy to clean. Wood is also part of it, but it is less appreciated. Despite its resistance to any test, there are not enough possibilities in terms of designs.
Which does not leave much choice in terms of constructions to be done. Be careful, at the slightest sudden movement, the wooden parts can hurt a lot. Less known, but just as practical, there are fabric ones. For babies and toddlers, this is the material to turn to. The parts are large enough, light, and present no risk of being swallowed. To awaken the senses, choose fabrics with different textures.
Magnetic construction sets are the latest to hit the market. The possibilities for creation are endless. Usually, the pieces are geometric with magnets on all sides. It will suffice to place them next to each other to stick together. It will not be necessary to tighten the parts since they hold thanks to the magnetic power. However, you have to be old enough to do this since the parts are difficult to handle.
Depending on the needs of your children
 Depending on the age of your toddlers, the needs will not be the same. During the first years of life, from 1 to 3 years, they are still in the phase of discovery and exploration of the world around them.
This is when they become sensitive to smells and develop touch and sight. During this period, the most important thing will be to develop their motor skills. Choose pieces that are large enough, with different shapes. Children will need to be able to hold them in their hands, without being likely to swallow them, because at that age, they tend to put everything in their mouths.
From the age of 6, you will have more choices regarding the models to choose from. If they're responsible enough, you can give them smaller rooms. Building blocks for teens and adults are also available to satisfy older children.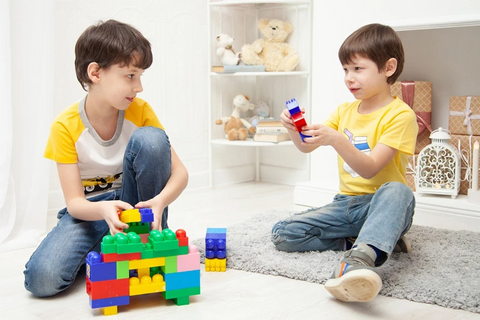 Depending on the design
To attract the attention of your children, their game must be at least attractive. The choice of design is therefore just as important as the choice of material. As pointed out above, before the age of 3, it will be necessary to develop sight and touch.
So, opt for brightly colored pieces that are fairly easy to handle. To give examples, there are fabric cubes or musical games. For children under 2, there are brick building blocks and cubes to assemble. From 3 to 5 years old, it is quite possible to choose more complex games. But not too much, since they won't be paying attention for very long. There, the color is no longer as important, so ask your child what he would like.
Teens will tend to choose building blocks related to their favorite cartoon and their favorite hero. This is good since many brands offer this type of assembly. Some sets are even sold with small figures in addition.
The different types of building blocks
Invention games
 To let your imagination run wild, there is nothing better than this guy. In a way, you will have free rein to create the shapes you want. Creative sets are only made up of different pieces. It will be your responsibility to combine them as you wish. Of course, some manufacturers are adding indications to help children as best they can.
To give an example, there may be wooden boards. In this case, the latter serves as a guide or boss to build pyramids, houses, etc.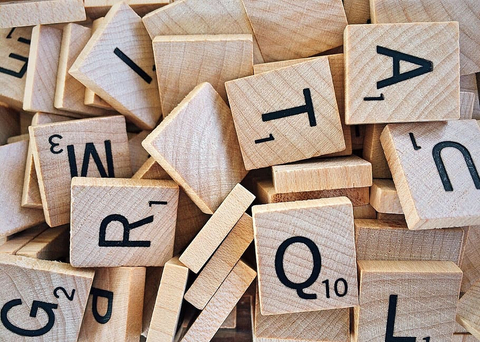 Assembly games
 Assembly games are much easier to use. As the name suggests, there are several predefined pieces that will need to be put together to create a shape, like a puzzle.
Usually, a leaflet and guide are in the box to guide you through the various steps. Of course, it is still possible to make some changes and adjust according to your needs. Also, I prefer construction sets with models which can transform into several objects.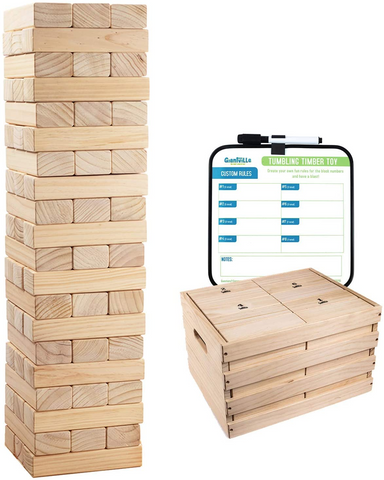 The circuits
Reserved for older children, circuit-type building blocks are quite complex. It will be the responsibility of the players to create the platform. Normally, the latter will be used to compete in marbles, cars, and even dominoes. The circuits to be created are more difficult and it will take patience since the players will be able to create different combinations to find the one that best meets their expectations.
Building blocks have been a staple and have been for millennia. For your children and even for you, you have to choose a suitable game. Do not hesitate to vary the pleasures with different structures and different materials. In this comparison buying guide, you only have the best models, tested and approved by experts.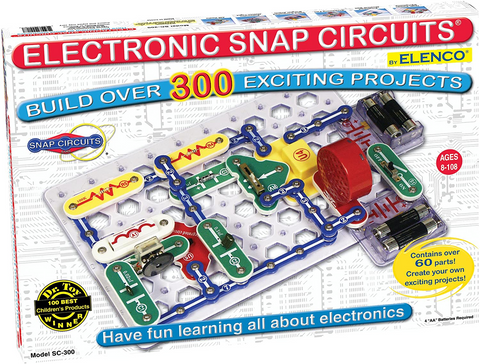 Building blocks, from what age?
The recommended minimum age is always indicated in the characteristics of the games. Before 3 years old, be sure that the parts cannot be swallowed by your children.
The pieces should be larger than their hand until they are masters of their movement. Either way, it's always best to keep an eye on them when they're playing.
It is advisable to get children used to it from an early age. When they are still young, learning to hold coins will be easier. They will have a stronger background to face the daily world and better appreciate the world around them. So even at the age of 12 months, you can start to introduce building blocks to your child.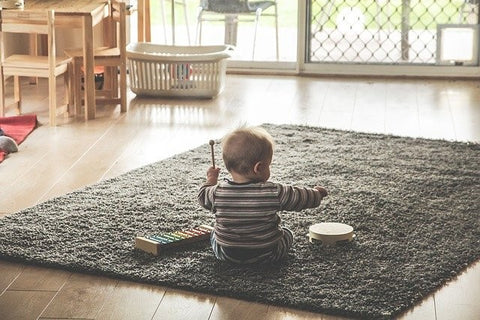 The best brands of construction sets
 Some brands stand out from others, as much by their reputation as by the quality of the products they offer. Their products are safe bets, especially if you've never purchased a construction toy before. The products are guaranteed and comply with international standards for the safety of all. Pick a good brand that fits your budget as well as your needs.
To name a few, there are the unmissable Logicsys, Magna-tiles, and Playmobil with their architecture construction set. These two brands are true pioneers on the market, in addition to offering a wide variety of models, on all themes and for all ages. Obviously, there are other brands that stand out like Meccano and Kapla.
How to play with children?
Even if the principle is to develop the imagination and control of your toddlers, your help is not excluded. Don't hesitate to guide them, especially at the start of a game. In some cases, it is better for you to be the first to play so your child can follow your example. You should always stay next to your child if they are under 8 years old. If he can understand, explain to him the risks if any when handling parts. Do not forget to offer games that adapt to his age. If you skip the steps, you might make the game boring.
In this case, always pay attention to the age indicated on the boxes.
How to maintain building blocks?
 To guarantee their lifespan over time, attention must be paid to maintenance. You should regularly check the condition of each part so as not to risk injury to your child. You will have to look at it one by one, from time to time, as this is the only way to do it.
Remember to clean the parts regularly. If they are fabric or plastic toys, the dirt gets stuck easily. Since children can put anything in their mouths, they can get sick if there are bacteria. Do not hesitate to wash with soap or to pass a wipe of a damp cloth to guarantee the hygienic aspect of the games.
For storage, remember to do it in a grouped place. Since the parts are easy to lose, it is best to have everything in a specific place. Preferably choose a set already delivered with its own storage and transport box at the time of.